Gleaner Girl
This story is based on Ruth 1-4 in the Bible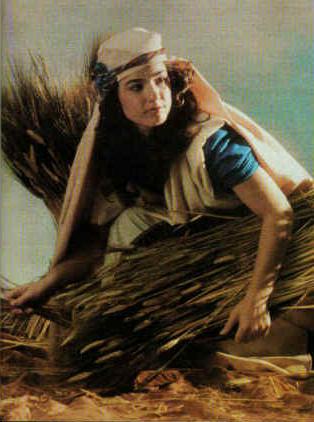 Out of all the darkness and sadness of the days when Israel was ruled by the judges comes one of the sweetest stories ever told. It is about a girl called Ruth, who belonged to the Moabites, long-time enemies of Israel.

As a child, I suppose she heard only bad things about the Israelites, and if she hadn't met Naomi, maybe she never would have known any better. Naomi was the mother of two boys about Ruth's age. One was called Mahlon, the other, Kilion. Their father's name was Elimelech and the four of them had come all the way from Bethlehem to Moab because of a famine in their own country.
After Elimelech's death Ruth and Mahlon fell in love and married. Also a girl friend of Ruth's name Orpah, married Kilion. The five of them were very happy together, for Naomi was the nicest mother-in-law any girl could wish to have. She loved her daughters-in-law dearly, and they loved her just as much.
Naomi was a godly woman, and she must have been very sorry when her sons married heathen girls. But she made up her mind to lead them if she could, to love the God of Israel. She took every chance to talk to them of God's love and to tell them the stories she had heard from her parents long before.
Naomi explained to Ruth and Orpah how God created the world in the beginning and made it into a beautiful home for man, how Adam and Eve sinned and lost their garden home, and how God planned to give it back to them some day. She also told them about the Flood and the rescue of Noah and his family in the ark, of God's promises to Abraham, the dark days in Egypt, the great deliverance in the days of Moses, and all God had done for His people since then.
Ruth and Orpah loved to listen as Naomi talked to them. They especially liked to hear of the wonderful things she believed God would do for Israel in the future. Naomi may have told them that someday, through some sweet girl, Eve's offspring would come to crush the snake's head.
Ten years passed by. Then trouble came, and great sorrow. First Mahlon died, then Kilion, one after the other.
The sadness in that home must have been terrible. How Naomi, Ruth, and Orpah must have cried together. Poor things! It must have been hard for them to believe in the goodness of God. But they did.
Brave Naomi decided she would go back to her old home in Bethlehem, and the two girls said they would go with her. On the way, however, Naomi began to worry about them. She wondered whether she was doing right in taking them away from their own country. Perhaps they would be better off if they were to go back to their mothers.
"Go back, each of you, to your mother's home," she said to them kindly: "May the Lord show kindness to you, as you have shown to your dead and to me." Then she kissed them, and they all burst out crying again.
Both Ruth and Orpah said they would rather stay with her than go back to their homeland. They wouldn't leave her. They loved her too much. But Naomi said it was better for them to go back to their own homes. They must find new husbands, she said, and it would be easier to do this where they were known, among their own people.
They talked for a long time about it, and finally Orpah decided that maybe Naomi was right. She said goodbye with many tears and turned around to go back home. I can see her waving her last farewell before disappearing from view around a bend in the road.
But Ruth wouldn't go. In words that will live forever, she told Naomi, "Don't urge me to leave you….Where you go I will go, and where you stay I will stay. Your people will be my people and your God my God."
So Naomi and Ruth went on their way together, trudging slowly and sadly up the rough, steep mountain trail that led to Bethlehem. When they finally arrived at the village, everyone in town was excited. "Naomi is back!" the people cried, crowding around to hear the news she brought from the land of Moab.
"But where is your husband?" they asked. And, "Where are the boys?" Tearfully Naomi told her story. "I went away full, but the Lord has brought me back empty."
Fortunately the barley harvest was just beginning, so there was work to do and food to eat. Ruth offered to go into the fields and glean with the other village girls. In those days, grain was cut and gathered by hand, and what was left by the reapers could be picked up by the gleaners.
One day as she was busily at work, Boaz, the owner of the field, came by. Seeing a strange girl among his gleaners, he stopped to ask who she was.
The man in charge replied, "She is the Moabitess who came back from Moab with Naomi."
Boaz was interested. He had wanted to meet her, especially since Naomi was a relative of his. Calling Ruth to him, he told her he had heard about her kindness to Naomi and how she had willingly left her own country to come and live among strangers.
"May the Lord repay you for what you have done. May you be richly rewarded by the Lord, the God of Israel, under whose wings you have come to take refuge," he said.
Smiling sweetly, Ruth thanked him for his kind words; and Boaz, liking her more every minute, told the reapers to let some of the sheaves drop where she could glean them. He wanted to make sure Ruth would have lots of grain to take home to Naomi.
As the days went by, Boaz and Ruth saw more and more of each other, and one day there was a wedding in Bethlehem. It must have been quite an event, for Boaz was very rich and Ruth was very poor, and a Moabitess too.
People must have talked about it for weeks, and they would have talked even more if they had known what this marriage would mean in the years ahead. For Ruth and Boaz had a son called Obed. And Obed had a son called Jesse. And Jesse had a son called David.
So Ruth — dear, kind, faithful Ruth — was the great-grandmother of King David. She was a direct ancestor of Joseph the husband of Mary who, more than 1,000 years later, in this very same village of Bethlehem, gave birth to the baby Jesus.
I am sure Ruth never dreamed that she would receive such a great honor when, far away in Moab, she listened to Naomi telling those wonderful
stories of the God of Israel, the God of heaven and earth. How glad she will be, through all eternity, that she gave her heart to Him then.