Bible

Have you ever been afraid or lost in the dark? Wasn't it good and comforting when you finally found a light? God's special book, the Bible, is a lot like a flashlight in a dark world. It helps us to see what we should do and how we should live.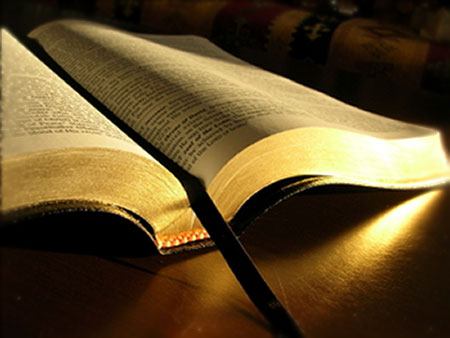 What is the Bible? "Your word is a lamp to my feet and a light for my path" (Psalm 119:105, NIV). The Bible is God's word and it serves as a light.

How did we get the Bible? The Bible tells us, "No prophecy recorded in Scripture was ever thought up by the prophet himself. It was the Holy Spirit within these godly men who gave them true messages from God" (2 Peter 1:21, TLB). The Bible was written by 40 different authors and over a time span of 1,600 years. God chose individuals and told them what to say and write.
Is the Bible true? Yes! It's in the Bible "…your word is truth" (John 17:17, NIV).
How do we know that the Bible is true? The Bible says, "Test all things; hold fast what is good" (1 Thessalonians 5:21, NKJV). It predicted what countries, or kingdoms would rule the world long before it actually happened. It also predicted when Jesus would be born and where he would be born hundreds of years before he was born! Only God can do that.

What should we do when someone tells us that the Bible teaches a particular doctrine? The Bible says, "Now the Bereans were of more noble character than the Thessalonians, for they received the message with great eagerness and examined the Scriptures every day to see if what Paul said was true" (Acts 17:11, NIV). Read it for yourself! We should compare any religious doctrine or teaching with the Bible—to see whether it harmonizes with what God's Word says is true.

What is the Bible useful for? "The whole Bible was given to us by inspiration from God and is useful to teach us what is true and to make us realize what is wrong in our lives; it straightens us out and helps us do what is right. It is God's way of making us well prepared at every point, fully equipped to do good to everyone" (2 Timothy 3:16, 17, TLB). "For the word of God is living and powerful, and sharper than any two-edged sword, piercing even to the division of soul and spirit, and of joints and marrow, and is a discerner of the thoughts and intents of the heart" (Hebrews 4:12, NKJV).

What can the Bible do—even for children? The Bible says, "I have hidden your word in my heart that I might not sin against you" (Psalm 119:11, NIV). When we read God's Word and keep it in our minds and hearts, it will help us avoid sin.

What should we do after we read the Bible? "Blessed are all who hear the Word of God and put it into practice" (Luke 11:28, TLB). "Do not merely listen to the word . . . . Do what it says" (James 1:22, NIV).

There are lots of really great stories in the Bible. What can we learn from them? The Bible says, "All these things happened to them as examples—as object lessons to us—to warn us against doing the same things; they were written down so that we could read about them and learn from them in these last days as the world nears its end" (1 Corinthians 10:11, TLB). The stories in the Bible are more than just stories; they are to teach us lessons; they are examples, showing us how to live.

The Bible seems so hard to understand. Is there anyone who can help us? It's in the Bible, "When the Holy Spirit, who is truth, comes, he shall guide you into all truth" (John 16:13, TLB). "If any of you lacks wisdom, he should ask God, who gives generously to all without finding fault, and it will be given to him" (James 1:5, NIV).

What is the main theme of the Bible? Jesus said, "You diligently study the Scriptures because you think that by them you possess eternal life. These are the Scriptures that testify about me" (John 5:39, NIV). The whole Bible points to Jesus. He is the center of every part of Scripture.

How long will God's word, the Bible, last? The Bible says, "Heaven and earth shall disappear, but my words stand sure forever" (Mark 13:31, TLB).