Christianity

Becoming a Christian is the most important decision you will ever make. The devil is on a mission to make sure you don't succeed.
How does a person become a Christian? It's in the Bible, "And this is the way to have eternal life—by knowing you, the only true God, and Jesus Christ, the one you sent to earth!" (John 17:3, TLB). We become a Christian when we know and accept Jesus—entering into a personal relationship with Him and with God the Father. Although we can't physically see God, the best way to have a personal relationship with Him is by praying regularly and reading and studying the Bible.
Forgiveness is an important part of becoming a Christian. The Bible says, "These words of Peter's moved them deeply, and they said to him and to the other apostles, 'Brothers, what should we do?' And Peter replied, 'Each one of you must turn from sin, return to God, and be baptized in the name of Jesus Christ for the forgiveness of your sins; then you also shall receive this gift, the Holy Spirit' " (Acts 2:37, 38, TLB).
God is willing to forgive you but you have to be truly sorry for what you did and ask for forgiveness.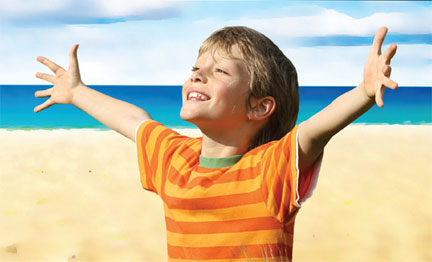 Becoming a Christian is both a personal and a public decision. The Bible says, "For salvation that comes from trusting Christ—which is what we preach—is already within easy reach of each of us; in fact, it is as near as our own hearts and mouths. For if you tell others with your own mouth that Jesus Christ is your Lord, and believe in your own heart that God has raised him from the dead, you will be saved. For it is by believing in his heart that a man becomes right with God; and with his mouth he tells others of his faith, confirming his salvation" (Romans 10:8-10, TLB).
If you choose to become a Christian, the decision should start with you. No one should force you; it should be something that you personally want to do. It is your private decision. Then, when you're ready to be a Christian, you've got to shout it from the mountain tops! Okay, okay, you don't have to go that far, but you've got to tell everyone you know! In other words, you can't hide it under a bushel; you'll want to let your little light shine!
"Believing" in Christ means more than just having an opinion. The Bible says, "You, however, are controlled not by the sinful nature but by the Spirit, if the Spirit of God lives in you. And if anyone does not have the Spirit of Christ, he does not belong to Christ" (Romans 8:9, NIV). Believing in Jesus means not only believing with our minds, but "believing" with our lives—living for Him because His Holy Spirit lives in us and controls our actions.
Being Christian results in such a radical change in our lives that it is like becoming a completely new person. The Bible says, "If anyone is in Christ, he is a new creation; the old has gone, the new has come! All this is from God who reconciled us to himself through Christ" (2 Corinthians 5:17, 18, NIV). Jesus compared this change to being born all over again. "Flesh gives birth to flesh, but the Spirit gives birth to spirit. You should not be surprised at my saying, 'You must be born again' " (John 3:6, 7, NIV). When we become a Christian, our old life is replaced with a new life in Jesus.