Loneliness
Whales like to be near their family and friends. By their calls they can tell when another whale is hurt, hungry, happy, etc. Scientists have been following a whale that just might be the loneliest whale in the world. She is always alone and doesn't have family or friends. The problem? Her voice is unique. Her calls are at a different frequency than other whales and so they can't hear her. None of the other whales hear or respond when she cries, and she gets sadder and sadder.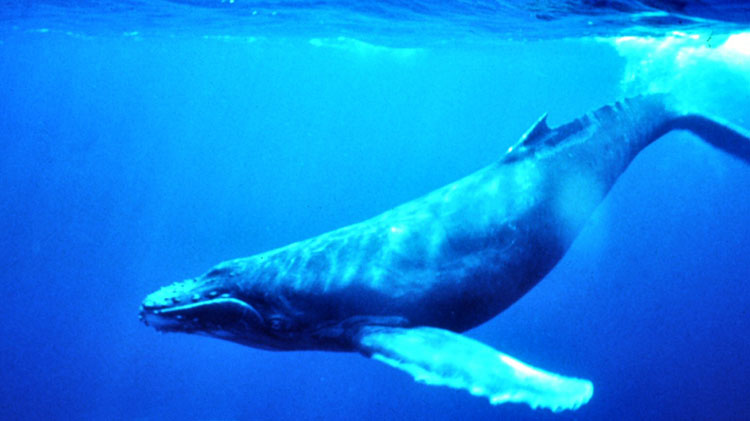 Do you feel lonely? God has some special words to say to you. It's in the Bible, "And surely I am with you always, to the very end of the age" (Matthew 28:20 NIV). God will be with us where ever we go, whether we are in a crowd or alone.
Where does loneliness come from? Why do I feel lonely? Let's see what the Bible says.
Loneliness may come when I choose not to follow God's way. In the Bible we read that at times David did not follow God. In those times he felt lonely. David writes in the Bible, "Turn to me and be gracious to me, for I am lonely and afflicted" (Psalm 25:16 NIV).
When we are lonely God wants us to ask Him for help. The Bible says, "Yet I am always with you; you hold me by my right hand. You guide me with your counsel, and afterward you will take me into glory. Whom have I in heaven but you? And earth has nothing I desire besides you. My flesh and my heart may fail, but God is the strength of my heart and my portion forever" (Psalm 73:23-26 NIV). In times of loneliness we can find comfort in talking to God. He has counsel for us and will make us strong in Him.
When David was doing the right things, he looked to God for his answers. It's in the Bible, "I looked for the Lord, and He answered me. And He took away all my fears" (Psalm 34:4 NLV).
Spend time each morning with God. The Bible says, "In the morning, O LORD, you hear my voice; in the morning I lay my requests before you and wait in expectation" (Psalm 5:3 NIV). Daily prayer and Bible Study will help lessen loneliness.
Loneliness may come when I am not comfortable with people, or situations, in my life. Everyone has times when they are lonely. In the Bible we read about Jeremiah being discouraged. People hated him, talked about him and put him prison. The Bible says, "I am ridiculed all day long; everyone mocks me. Whenever I speak, I cry out proclaiming violence and destruction" (Jeremiah 20:7-8, NIV). Sounds like Jeremiah was very lonely. Still he talked to God about his thoughts, both good and bad. He remembered God's promises. He could keep going when things were bad because he knew that he was doing what God wanted him to do!
Loneliness may come when my heart is broken. God wants to help us when we are lonely. He told David that when God's people, or the righteous, cry, God hears. The Bible says, "The righteous cry out, and the LORD hears them; he delivers them from all their troubles. The LORD is close to the brokenhearted and saves those who are crushed in spirit" (Psalm 34:17, 18 NIV). God will deliver us from our troubles.
David knew that God was interested in him and was a friend who understood his thoughts. "O LORD, You have searched me and known me. You know my sitting down and my rising up; You understand my thought afar off" (Psalm 139:1, 2 NKJV). God was with David to comfort him. God will be with you, too.
What are some practical things to do when you are lonely? First of all, Pray. Ask God for comfort and talk to God as you would to a best friend! Next, think of someone you can call, visit, or help that is also lonely or needs help. Finally, try to make a new friend that likes something that you like. Show yourself to be a good friend to someone and by putting effort into making the friendship fun.
Remember the words of God to Moses. The Bibles says, "No one will be able to stand up against you all the days of your life. As I was with Moses, so I will be with you; I will never leave you nor forsake you" (Joshua 1:5 NIV).
So, how important are you? The Bible says, "Out of all the peoples on the face of the earth, the LORD has chosen you to be his treasured possession" (Deuteronomy 14:2 NIV). You are important to God! You are God's treasure!