Church
Every Sabbath we go to a dedicated building called "church." But what exactly is church and why do we go to it?
Is the church where God lives? No. The Bible says, "The God who made the world and everything in it is the Lord of heaven and earth and does not live in temples built by hands" (Acts 17:24, NIV). We worship God in churches, but that is not where He lives. He lives in our hearts. That's why w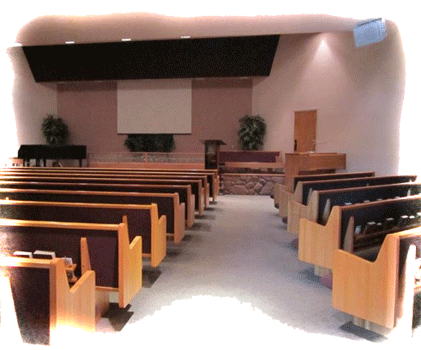 e've got to make sure we treat our bodies as if God lives inside us. You wouldn't want God staying in a messy place; would you?
Then what is the church? The Bible says, "We who believe are carefully joined together with Christ as parts of a beautiful, constantly growing temple for God" (Ephesians 2:21, TLB). "Don't you realize that all of you together are the house of God, and that the Spirit of God lives among you in his house?" (1 Corinthians 3:16, TLB). The church is not really the building where we worship. The church is God's people—those who believe in Jesus and who have given themselves to Him. How do you help make your church feel less like a building and more like a family?
What does the church do? The Bible says, "Preach the Word; be prepared in season and out of season; correct, rebuke and encourage—with great patience and careful instruction" (2 Timothy 4:2, NIV). The church—God's people—spreads the gospel.
God wants His church to help each other as well as to spread the gospel. The Bible says, "Why is it that he [God] gives us these special abilities to do certain things best? It is so that God's people will be equipped to do better work for Him, building up the church; the body of Christ, to a position of strength and maturity" (Ephesians 4:12, TLB). The better of a job we do in this, the better people can understand who Jesus really was and what He was all about.
Every Christian is needed in the church. The Bible says, "Each of us is a part of the one body of Christ. . . . The Holy Spirit has fitted us all together into one body. We have been baptized into Christ's body by the one Spirit, and have all been given that same Holy Spirit. . . . All of you together are the one body of Christ and each one of you is a separate and necessary part of it" (1 Corinthians 12:13, 27, TLB). Just like every organ and part of the body has its own special role to carry out so that the whole body functions properly, so everyone in the church has his or her own special, important role to carry out in the church so that the whole church functions properly. Do you know your part in church?
Do I need to go to church? Yes. The Bible says, "Let us not neglect our church meetings, as some people do, but encourage and warn each other, especially now that the day of His coming back again is drawing near" (Hebrews 10:25, TLB). Christians encourage each other. As you attend church and worship God with other Christians, your faith will grow, and you will help other Christians to grow as well. This fellowship becomes even more important the closer the time comes for Jesus to return to earth.