Jesus Christ

It has been at least two thousand years since Jesus Christ lived as a human on this earth, yet He is still the most talked about person that has ever lived. People have given their lives in service to Him. Some have been burned at the stake, and others were tortured rather than disown Him. Wouldn't you like to know more about the God who became a man?
Why did Jesus decide to come to our planet? It's in the Bible, ""Through him all things were made; without him nothing was made that has been made" (John 1:3, NIV). Jesus is the Creator. He made our world and He made mankind. Another Bible verse says, "And to make all see what is the fellowship of the mystery, which from the beginning of the ages has been hidden in God who created all things through Jesus Christ" (Ephesians 3:9, NKJV).
What was the purpose of Jesus coming to earth? "It's in the Bible, "She (Mary) will give birth to a son, and you are to give him the name Jesus, because he will save his people from their sins" (Matthew 1:21, NIV).
Mankind had chosen to disobey God's law, and listen to Satan. The penalty for breaking the law is death. This made Jesus sad because He didn't want to see His children die. Jesus came to take our place. Jesus also wanted to show mankind what God is like. He said, "He who has seen Me has seen the Father" (John 14:9, NKJV).
Where did Jesus live before He came to this earth? It's in the Bible, "For I have come here from heaven to do the will of God who sent me, not to have my own way." (John 6:38, TLB). Jesus came from heaven where he lived with His Father.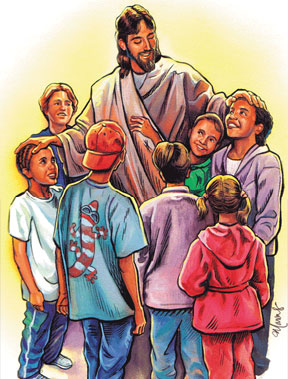 What's so great about Jesus coming to this earth? It's in the Bible, "Your attitude should be the kind that was shown us by Jesus Christ, who, though he was God, did not demand and cling to his rights as God, but laid aside his mighty power and glory, taking the disguise of a slave and becoming like men. And he humbled himself even further, going so far as actually to die a criminal's death on a cross."(Philippians 2:5-8, TLB). Jesus did not have to die for us. He could have stayed in heaven where it was safe and he could be with His Father. Yet He chose to die a horrible, humiliating death so we could be saved.

Was Jesus created by God? It's in the Bible, "In the beginning was the Word, and the Word was with God and the Word was God…The Word became flesh and made His dwelling among us. We have seen His glory, the Glory of the One and Only, who came from the Father, full of grace and truth." (John 1:1, 14, NIV).
Jesus says, "I am the Alpha and the Omega, the Beginning and the End, says the Lord, who is and who was and who is to come, the Almighty" (Revelation 1:8, NKJV). Jesus existed in the beginning with the Father! Our minds cannot even comprehend this mystery. In our world we have to have a beginning and an end, but that is not the case with Jesus.
What kind of a relationship does God the Father have with Jesus? It's in the Bible, "And suddenly a voice came from heaven, saying, "This is My beloved son, in whom I am well pleased." (Matthew 3:17, NKJV).

What did Jesus say about His relationship with the Father? It's in the Bible, "I and the Father are ONE" (John 10:30, TLB). God the Father and Jesus the Son are one in purpose. They agree with each other and both were united in creating and saving mankind.
So what kind of things did Jesus do that help us know what God is like? It's in the Bible, "Jesus traveled all through Galilee teaching in the Jewish synagogues everywhere preaching about the good news about the kingdom of heaven. And He healed every kind of sickness and disease." (Matthew 4:23, TLB).
Can Jesus help us to find the Father? "Jesus answered, "I am the way and the truth and the life. No one comes to the Father except through me." (John 14:6, NIV).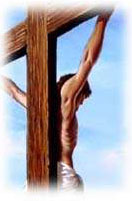 Did Jesus ever do wrong or sin when He lived on the earth? No. It's in the Bible, "He (Jesus) died once for the sins of all us guilty sinners although He himself was innocent of any sin at any time, that He might bring us safely home to God." (1 Peter 3:18, TLB).

Does Jesus understand how hard it is me not to do wrong? He does understand and He will help us. "Therefore, since we have a great high priest who has gone through the heavens, Jesus the Son of God, let us hold firmly to the faith we profess. For we do not have a high priest who is unable to sympathize with our weaknesses, but we have one who has been tempted in every way, just as we are—yet was without sin." (Hebrews 4:14, 15, TLB).
What else is Jesus doing for me? He is making a home for us in heaven. "And if I go and prepare a place for you, I will come again and receive you to Myself: that where I am, there you may be also" (John 14:3, NKJ). Jesus is coming to this earth again and will take us all to heaven with Him!
How can I know Jesus as my Savior? "But to all who received (Jesus), He gave the right to become children of God. All they needed to do was to trust Him to save them." "He died once for the sins of all us guilty sinners although He himself was innocent of any sin at any time, that He might bring us safely home to God." (John 1:12 and 1 Peter 3:18, TLB).
What does Jesus want me to do? It's in the Bible, "Believe on the LORD Jesus Christ, and you will be saved…" (Acts 16:31, NKJ). Jesus invites you, "Come to Me, all you who are weary and burdened, and I will give you rest…..learn from me, for I am gentle and humble in heart, and you will find rest for your souls" (Matthew 11:28, NIV). It's a wonderful invitation. Why not accept Him today?